Painting your wooden fence is one of the best ways to protect and extend its lifespan. Extending the lifespan of your backyard barrier by several years is possible and made easy - with an airless paint sprayer machine.
Why Do Fences Need Painting?
Painting or staining acts as a protective barrier on the wood's surface. It seals the pores to prevent moisture from seeping in. This is key for fence longevity, as water is wood's worst enemy. When water gets trapped inside, it promotes rot, cracks, warping, and invites pests like termites.
The pigments in paint also contain UV blockers that reflect harmful sun rays. This prevents the graying effect from sun exposure and photodegradation. Staining is ideal for accentuating the natural wood grain while still providing protection. Clear finishes don't have UV blockers but do seal out moisture.
How Long Does a Painted Fence Last?
With a proper prep work and application, a coated fence can last upwards of 10-15 years before needing fresh paint. On average, expect a painted wood fence to last 5-7 years before showing signs of wear, and a stained one to last 3-5 years. This compares to just 2-3 years for an unfinished fence. Factors like coating quality, weathering conditions and wood type impact longevity. But in general, painting your fence extends its functional lifespan several times over.
Benefits of Using an Airless Sprayer on Fences
Airless sprayers provide a fast, efficient way to thoroughly coat fences. Sprayers can cover up to 10 times faster than brushes. You'll get more done in less time and less fatigue. More suitable for large areas of outdoor work or contractors.
The high pressure can gets into cracks. Able to spray thick coatings like solid stains, reaches areas difficult to access with brushes. Paints and stains don't need thinning as much versus brushing, you'll use less paint.
Preparing the Fence Surface
Proper surface preparation is key to achieving long-lasting results from fence painting. Start by cleaning the boards thoroughly with a pressure washer to remove loose paint, dirt, mildew and other contaminants. Scrape off any remaining loose paint by hand.
On new wood fences, lightly sand to reduce grain. Allow the wood to fully dry before priming and painting. For severely weathered wood, a coat of wood filler may be required to fill holes and cracks prior to sanding.
Proper Paint Spraying Technique for Fences
Always prime new or stripped wood before painting a fence. Oil-based primers are ideal for maximizing durability and preventing moisture penetration into the wood. For previously painted fences in good condition, a water-based bonding primer helps the new coat adhere properly. With an airless sprayer, you'll achieve fast and uniform coverage across fence boards and rails when applying primer.
When spraying fences, use tip sizes between .015 and .019 inches. Smaller tips are better for detail work. Maintain consistent 12-14 inch distance between spray tip and wood surface. Avoid arcing motions to prevent uneven coverage. Use vertical motions on boards, horizontal motions on rails.
Allow each coat to fully dry before adding another. 2-4 hours between coats, 24-48 hours for final curing. When spraying horizontally, spray with the wind direction to avoid paint being blown back at you.
For optimal protection, use high-quality 100% acrylic or oil-based fence paints/stains. Follow correct coverage rate and drying times. Expect 1-2 gallons of paint per 100 square feet. Reapply transparent stain every 2-3 years; repaint with solid color every 5-7 years.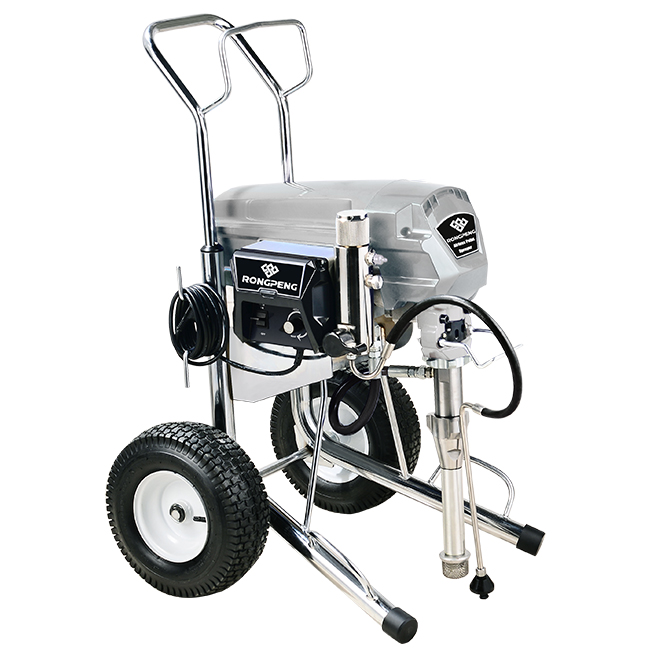 To ensure the success of your fence project, it is important to choose a professional sprayer. The RONGPENG R650 airless paint sprayer makes quick professional work of fences, walls, and more. It has 4HP power brushless motor, get more work done. Durable filtration, easy out filter provides easy maintenance and less clogging. Low MoCr2 independent steel bushing, super wear-resistant, easy to clean!
Low per minute 2000 unique inductive intelligent recognition nozzle technology. The biggest can support 633 nozzles, improve construction efficiency. Robust all-metal construction withstands heavy duty use on worksites while the convenient cart design allows effortless mobility.
Fit for wall emulsion paint, coating, colorants, steel structure anticorrosion paint, epoxy Paint, enamel paint on the metal surface. Built for professional remodeling and repainting contractors looking to increase the number of larger jobs.
Voltage/Frequency:220V/50HZ
Motor size:4HP(3000W)
Max pressure:3300PSI(227bar)
Standard Noozle size:625(0.025")
Flow rate:5L/min(1.35GPM)
Max.Pressure for the hose:83Mpa
Length of High Pressure Hose:30m
Max spray tip:633
Weight:55kg(121lb)
RONGPENG has quickly risen to become an unrivaled global producer of air-powered devices including air tools, air spray gun, air nailer, airless paint sprayer, and etc.
RONGPENG seeks independent sales agent to represent and market our industry-leading pneumatic tools. We support OEM, ODM, OBM customization, small order quantity is acceptable and samples are available.
Make any cooperation possible. Any services related to the product, inquire with us now! Rongpeng@Rongpeng.Com