How to insert the filter into the spray gun body?
Take care from rongpeng air spray gun
1. Insert the filter into the gun body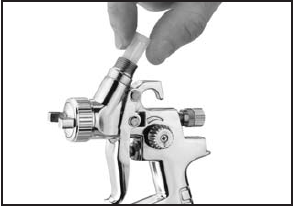 2. Screw the cup onto the top of the body.
3. Install the barbed hose fitting into the base of the gun handle and tighten in place with the lock nut.
4. Secure the air hose to the barbed fitting with a hose clamp.
5 . Attach the spray gun to an air hose regulated between 43.5 and 58 PSI