How to clear a rongpeng spray gun: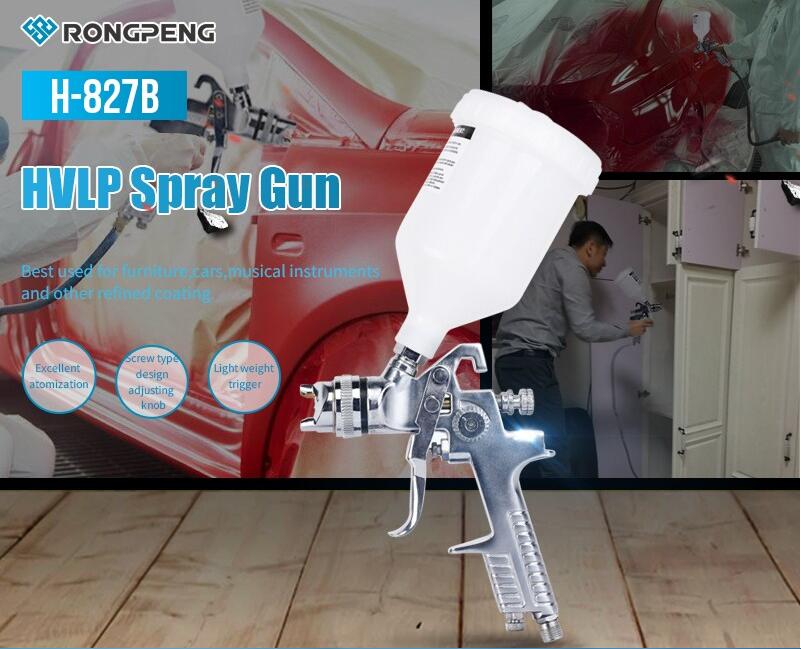 Maintenance
Incomplete cleaning could cause function failures and a degradation of the fan form.
Proper cleaning is the best way to ensure trouble free performance from your spray gun. If your gun is not thoroughly cleaned, damage and poor spraying will result. Problems caused by improper cleaning will not be covered by the warranty. Clean the spray gun immediately after each use.
To clean your spray gun:
1. Spray a small amount of solvent through the spray gun.
Note: Check with local laws regarding this practice. If you are spraying on a regular basis, spraying solvents into the air may be illegal. A cabinet style spray gun cleaner may be required.
2. Disconnect the gun from the compressed air!
3. Unscrew the cup.
4. Disassemble the gun by unscrewing the fluid control knob, removing the spring and needle.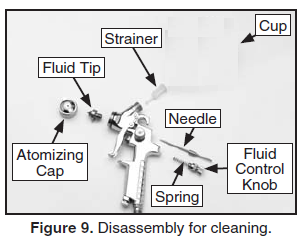 5. Unscrew the atomizing cap with your fingers and the fluid tip with the service wrench. The fully disassembled gun should look like Figure 9.
6. Rinse these parts thoroughly in solvent then dry with compressed air or let air dry.
Note: If the small holes in the atomizing cap become blocked, soak in clean solvent. If the blockage still exists, clear the blockage with a small needle, taking great care to not enlarge or damage the hole. Damage to the hole will create a disrupted spray pattern.
7. Use the cleaning brush with solvent to clean the inner orifice and other hard to reach areas on the outside of the spray gun body.
8. Wipe the rest of the gun body with a shop towel and dry.
Ø Clean the inside and outside of the spray gun(1)with a brush(2).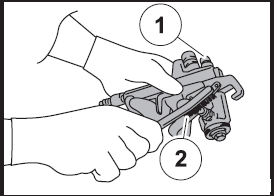 Ø Clean the inside of the paint cup (1).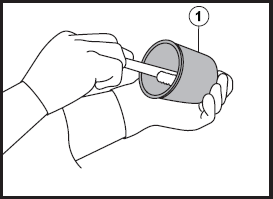 Ø Remove and clean the inside and outside of the air cap with a brush soaked in cleaning solvent.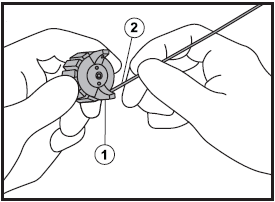 Note: Wash the air cap(1) carefully without causing any damage to its air hole as this would affect the spraying pattern. Never use a steel wire or wire brush for cleaning.If the air hole is clogged, clean it using a wooden toothpick(2).
WARNING:
NEVER USE METAL OR OTHER OBJECTS THAT COULD DAMAGE THE HOLES IN THE NOZZLE AND CAP. NEVER IMMERSE THE SPRAY GUN COMPLETELY IN SOLVENT. NEVER USE COMPONENTS OR PARTS THAT ARE NOT MANUFACTURER ORIGINALS.