Pallets are one of the most ubiquitous objects in our modern world. These wooden structures act as the foundation for transporting all kinds of goods and materials. While they may seem simple, high-quality pallets require proper construction using the right tools. For companies that make large quantities of pallets, coil pallet nailers are an essential tool.
What Is A Coil Pallet Nailer?
A coil pallet nailer is a type of pneumatic nail gun that uses coiled collated nails. Unlike other nail guns that use stick magazines, coil nailers utilize a coil of nail. This allows for faster reloading as workers can quickly swap out coils when empty.
Most coil pallet nailers use compressed air, the nails are fed into the nose of the tool through a feeder mechanism. When triggered, the nailer drives the nail into the workpiece using compressed air. This makes driving large numbers of nails much faster.
Coil pallet nailers are designed for high-volume nailing jobs like pallet assembly. They allow driving hundreds of nails per coil, making them ideal for pallet production shops. The large magazine capacity also means less downtime for reloading.
Tips for Making Sturdy Pallets
Use thick, kiln-dried softwoods like pine or whitewood. Hardwoods can crack and split over time. Arrange deck boards with the grain running perpendicular to the stringers for maximum load capacity. Space stringers evenly 12-16 inches apart depending on pallet size. Stagger the deck board joints so they don't align across top and bottom decks.
Drive two nails spaced 5-6 inches apart at every stringer joint. Use corner clamps and squared framing when assembling. Avoid large gaps between deck boards - maximizes top deck rigidity. Add steel rebar reinforcements if expecting very heavy loads. Print a unique ID number, logo, or other information.
Applications In Various Industries
Coil pallet nailers are used across many industries wherever pallets are made or reused.
Warehousing & Distribution Centers - Facilities that handle a high volume of goods use pallets constantly. Nailers allow efficiently rebuilding pallets as needed.
Construction - Temporary pallets are common at construction sites for loading materials and tools. Quick assembly with a nailer gets the job done.
Manufacturing - Assembly lines use pallets to move products. In-house pallet assembly with a nailer allows custom pallets.
Agriculture - Farms use pallets for transporting and storing produce. Durable pallets nailed with coil nailers stand up to heavy loads.
Retail & Wholesale - Stores use pallets for inventory and shipping. Having pallet assembly in-house allows full quality control.
Any operation moving products and materials can benefit from the use of coil nailers for efficient pallet building and repairing. Their versatility supports many different applications across industries.
What Else Can Pallet Nailers Do?
While designed for pallets, coil nailers have additional uses.
Crates. Nailing wooden crates and boxes are similar to pallet work.
Fencing. Quickly attaching pickets and boards to posts is easier with a coil nailer.
Paneling. Siding, fencing, and sheathing often uses the same nail sizes. A coil nailer drives large numbers of nails quickly.
Furniture. Rapid nailing saves time when making wooden furniture projects.
Packaging. For companies packaging products in wooden boxes, crates, and containers.
The high-capacity drove of a coil pallet nailer makes quick work of all sorts of woodworking tasks. For any project requiring a lot of nails, consider using the RONGPENG MCN55 Coil Pallet Nailer. It can turn an arduous manual job into a simple automated process.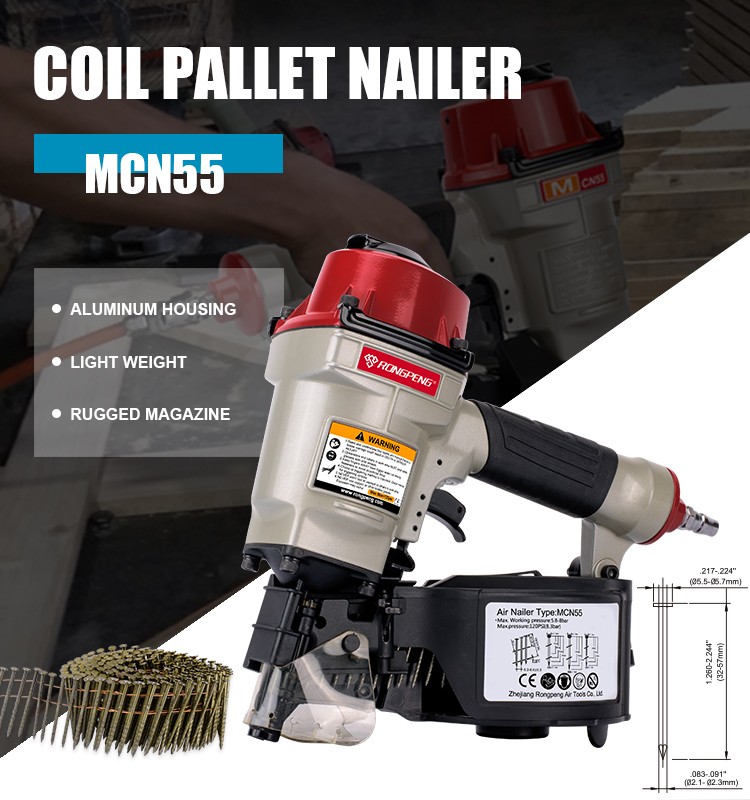 Large piston with German workmanship. Multi-directional exhaust. Fires 15 degree wire-collated nails from 1"-2-1/4". Contact fire trigger. Spare parts interchangable with MAX. Aircraft grade bumper, wear-resistant. TPE handle sheath, resistant to frost cracking. High strength aluminum alloy die casting body. High strength plastic magazine, stand wear and tear.
Usually used to making pallets, packaging, export wooden boxes, crating, wooden fence, general construction applications including siding, decking and sheathing.
Model No:MCN55
Dimension: 283*131*270mm
Weight:2.7kgs
Required pressure:85-115PSI(5.8-8bar)
Max pressure: 120 PSI (8.3bar)
Nail capacity:300-350pcs
RONGPENG has quickly risen to become an unrivaled global producer of air-powered devices including air tools, air spray gun, air nailer, airless paint sprayer, and etc.
RONGPENG seeks independent sales agent to represent and market our industry-leading pneumatic tools. We support OEM, ODM, OBM customization, small order quantity is acceptable and samples are available.
Make any cooperation possible. Any services related to the product, inquire with us now! Rongpeng@Rongpeng.Com