Contractors know that having the right tools for the job is crucial to getting work done efficiently and delivering quality results to clients.
If you're a contractor looking for an efficient and reliable sprayer to get painting jobs done faster, hydraulic airless sprayer is a great option to consider.
Unmatched Speed and Efficiency
The number one reason for contractors to choose hydraulic airless sprayers is the tremendous time savings they provide. Hydraulic models have motor-driven pistons that can spray at very high pressure, allowing you to apply coatings fast. Hydraulic Airless Sprayer With flow rates 12L per minute on RONGPENG 512 model, you can cover 6000 square meters areas rapidly compared to using general sprayer. The increased productivity means you can take on more jobs and make more money.
Hydraulic sprayers also have a faster cleanup process. There is less overspray compared to compressed air sprayers, so you spend less time masking and covering surfaces. The high pressure requires less thinning of coatings too. The end result is you save time both during application and after the job.
Superior Finish Quality
The high pressure atomization provided by hydraulic airless sprayers also enables a smoother, more consistent finish. RONGPENG 512 Gas Hydraulic Airless Sprayer operating up to 3300 PSI allow for excellent atomization of the paint or coating being applied. This fine spray pattern results in more uniform coverage without droplets, tails, or uneven finishes.
The high pressure gets coatings into nooks, crannies, and textured surfaces better than rollers or brushes can. You can achieve professional, flawless results on wood, concrete, block, stucco and other surfaces. Your clients will definitely notice the difference.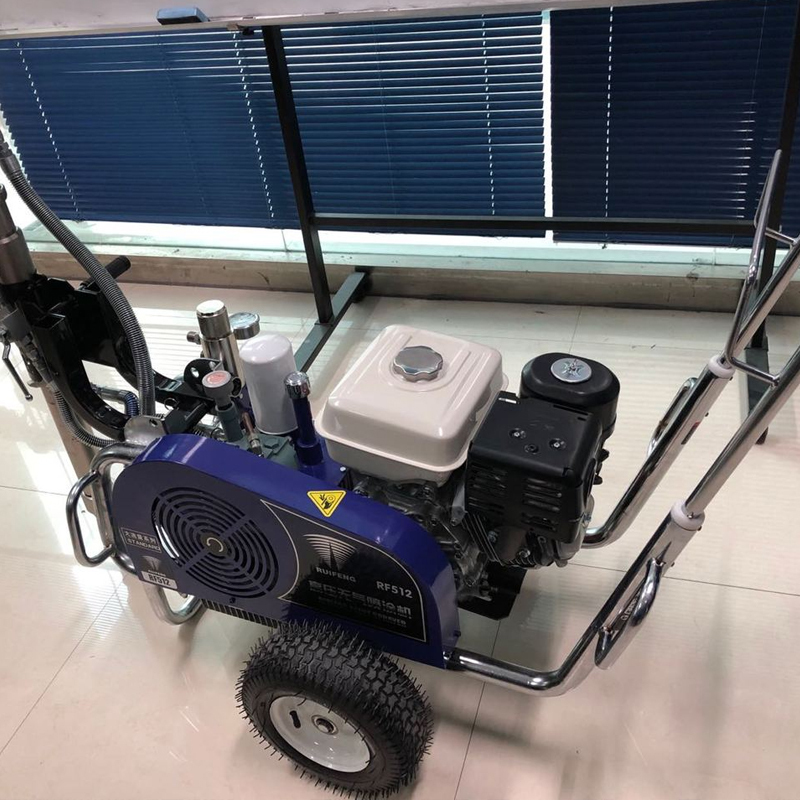 Versatility to Handle All Coatings
From thin stains to thick elastomeric coatings, hydraulic sprayers can handle them all. The high pressure allows adjustable control over the spray pattern and flow rate to accommodate different viscosities or types of materials.
This versatility makes a hydraulic sprayer an excellent all-around tool. Rather than needing different spray systems for different coatings, a good hydraulic model can do it all.
Whether spraying latex paint, urethanes, waterproof paint, floor paint, primers, sealers, or putty, black/white cement with glue for the decoration of shopping malls and large office buildings, RONGPENG 512 hydraulic sprayer saves you from needing multiple types of spray equipment, the spraying surface is large and the spraying quality is very good, suitable for large-scale decoration projects.
Longer Reach for 2-3 floor Work
For contractors taking on large commercial jobs or multi-story residential homes, reach is an important consideration. Hydraulic sprayers can come with up to 200 feet of hose, allowing you to spray 2-3 floor exteriors from the ground. This avoids the hassle of scaffolding or boom lifts.
Cost Savings
While hydraulic airless sprayers represent an upfront investment, they provide major cost savings over time. Their productivity advantages mean you can take on more jobs without needing more staff. You save money by not needing other types of spray systems. You reduce consumable costs like thinner, cleaning supplies, masking, and drop cloths.
Cleanup and prep work is slashed, saving enormous amounts of labor hours. In a short amount of time, the cost savings begin paying back your equipment investment multiple times over.
Increased Mobility
Gas hydraulic sprayers are highly portable and maneuverable. They can go wherever the job takes you, unlike electric models which have limited mobility due to cord length. You can easily move around a workspace and position the sprayer wherever needed without any constraints. This makes them ideal for both interior and exterior jobs. The increased mobility also enhances productivity.
RONGPENG 512 gas powered hydraulic airless sprayers are ideal for contractors. 14L large fuel tank, comes with a high-pressure airless spray gun and high output machine in a variety of sizes, ideal for larger jobs.
Suitable for Putty, black/white cement with glue, Oil paint, latex paint, fire retardant paint, Diluent volatile paint, floor paint, JS waterproof paint, polyurethane waterproof paint, polyurea waterproof paint,ultra-thinned waterproof paint. The integrated plunger pump is convenient for maintenance. New reversing structure, never stuck. Contains features that enable you to work more efficiently, saving time and money.
RONGPENG 512 Gas-Powered hydraulic airless sprayers are ideal for contractors who need versatility and flexibility. Achieve the results you're looking for in your interior and exterior painting work with the ability to spray a variety of different materials and a full range of paints and primers.
Model: 512
Fuel tank:14L
Max pressure:3300psi(22.7Mpa)
Max nozzle size:0.057
Max flow rate:12±5%
Engine displacement:9HP(6500w)
Oil pump displacement:8.0cm3/rev
High pressure hose length:3/8'' 3.6m , 1/2'' 15.4m
High pressure discharge connection:1/2-14NPSM
Machine compression strength:45.4Mpa
Weight:111kgs
View More About RONGPENG Airless Sprayer.
If you need product quotation service, please contact: rongpeng@rongpeng.com