A pin nailer is a type of pneumatic nail gun that drives small headless pins into wood or other materials. Pin nailers are designed for precision nailing and are ideal for detailed trim work, attaching molding and other fine finish applications.
What is a Pin Nailer?
A pin nailer, also sometimes called a 23 gauge pinner, uses compressed air to quickly drive headless pins that are only 1/2 to 1-3/8 inches long. The pins have no plastic collars or heads, so the nail heads sit flush in the material for an invisible look.
Advantages of Using a Pin Nailer
The nailer guides the pin precisely into the workpiece. Allows precise, adjustable placement of trim pieces
Pins sit below the wood surface for an invisible fastener appearance. Leaves smaller holes than nails or screws, without needing filler.
Less damage. Thin pins make tiny holes that are easy to fill and don't split wood like larger nails.
Most pin nailers are lightweight for working anywhere. Creates nice finished look for furniture, cabinets, crafts.
Project Ideas for Using a Pin Nailer
Here are some great woodworking and home improvement projects where a pin nailer can save time and provide better results.
1. Installing Cabinetry
Building cabinets, bookcases, shelving and other built-ins is one of the most common uses for a pin nailer. The pin nails allow you to securely fasten the parts together while leaving tiny holes that are nearly invisible. This gives your built-ins a clean, professional look. Pin nailers are perfect for attaching cabinet faces, nailing molding and trim, securing cabinet backs and assembling drawer boxes.
2. Attaching Trim and Moldings
For attaching quarter round, window and door trim, crown molding, chair rail and other decorative moldings, a pin nailer does the job perfectly. The angled pins sink into the wall studs or jambs to firmly hold the trim in place. Pins are nearly invisible when filled with putty.
3. Building Crafts Projects
For decorative wood crafts, a pin nailer enables you to join pieces of wood securely while leaving only tiny marks. You can use pin nails when making signs, picture frames, ornaments, jewelry boxes, decorative shelves and many other wood crafts.
Quickly attaching delicate molding, trim and decorative edges with pin nails is also easier and cleaner than using wood glue alone. The pins provide a strong bond without clamps.
4. Upholstering Furniture
Upholstering chairs, ottomans, headboards, and other furniture is a great project for a pin nailer. It allows you to tack fabric in place around edges and on the backside of the upholstery before adding trims and welting. The tiny pins don't leave large holes in the fabric or damage internal structure.
Using a pin nailer to attach fabric and padding to furniture frames provides a cleaner look than using staples. Pins grab the fabric securely but don't create visible bumps.
5. Some Other Uses
Building dollhouses and models, securing wire, hanging pictures and artwork, attaching house numbers and signs etc.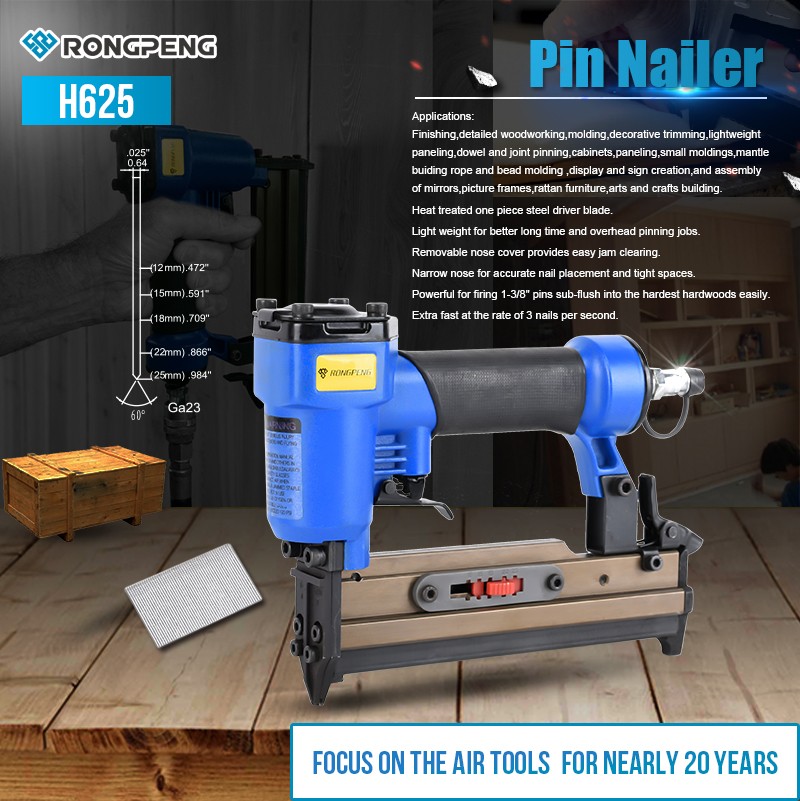 Pin nailer is a worthwhile investment for any home DIYer, woodworker or contractor. Choose the RONGPENG H625 pin nailer. It provides the durable performance, the tool weighs only 2.2 lbs, brings power without fatigue.
Drives 23 Ga headless pin nails 12-25mm(1/2"-1"). Light weight and strong aluminum housing. Non-slip rubber grip for comfort and better control. Spacious magazine holds up to 100 nails.
Whether you need to install trim, home decoration, build furniture, or craft models, crafting, and carpentry projects, be sure to add a pin nailer to your tool collection.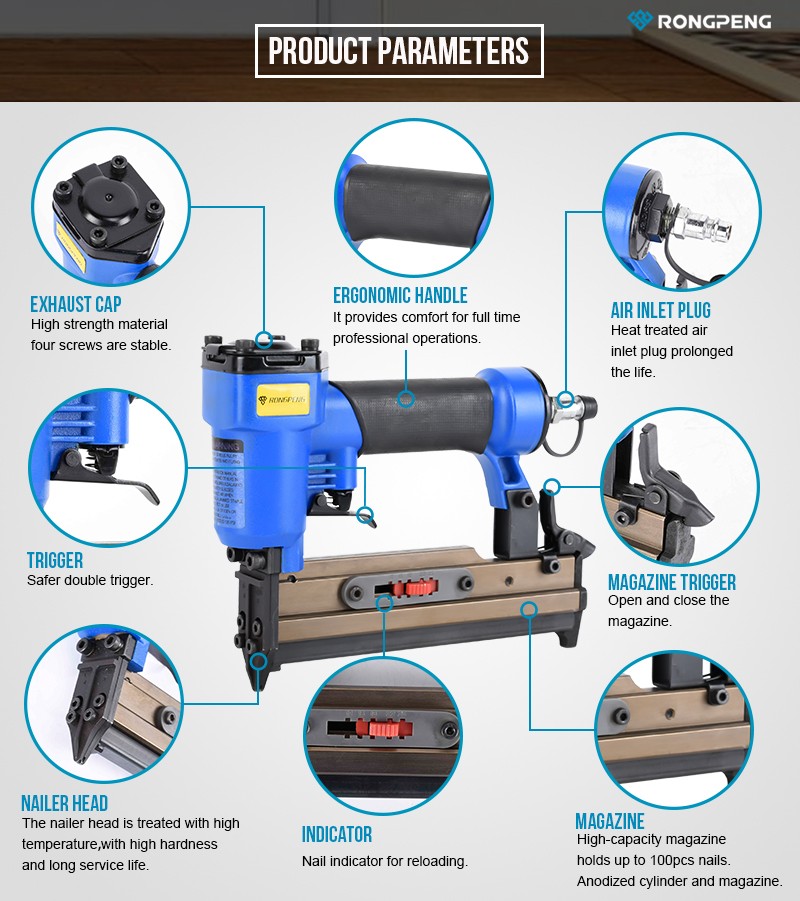 | | | | | | |
| --- | --- | --- | --- | --- | --- |
| Model | Dimension | Weight | Operating Pressure | Max.pressure | Load Capacity |
| H625 | 45x162x215mm | 1.0kg | 60-100psi(4-7bar) | 120psi(8.3bar) | 100pcs |
RONGPENG has quickly risen to become an unrivaled global producer of air-powered devices including air tools, air spray gun, air nailer, airless paint sprayer, and etc.
RONGPENG seeks independent sales agent to represent and market our industry-leading pneumatic tools. We support OEM, ODM, OBM customization, small order quantity is acceptable and samples are available.
Make any cooperation possible. Any services related to the product, inquire with us now! Rongpeng@Rongpeng.Com