Vinyl siding is a popular exterior home siding material for many homeowners, due to its durability, low maintenance and cost. But vinyl siding can fade and accumulate dirt over time. A freshly painted vinyl siding exterior can make a home look like new again. If use paint sprayer properly, vinyl siding can extend its lifespan significantly.
Prepare the Surface
Proper surface preparation is crucial for a paint job that will last on vinyl siding. First, use a garden hose to wash away any loose dirt or chalking. Pay close attention to the bottom edges of the siding, as this area tends to collect more grime.
Next, scrape off any loose paint by hand. Use a plastic putty knife so you don't gouge the vinyl. Sand rough paint edges smooth to create a uniform surface for the new paint. Fill any cracks or holes in the siding with exterior caulk or patching compound. Allow any filled areas to dry completely before painting.
Choose the Right Paint
Acrylic latex paint is ideal for vinyl siding. Avoid oil-based or alkyd paints which can react negatively with the vinyl siding. Select an exterior grade acrylic latex paint formulated specifically for vinyl. These specialty vinyl paints flex rather than peel or crack as the siding expands and contracts. Top quality acrylic latex paint provides maximum adhesion, UV protection, and weather resistance.
Pick lighter color tones when choosing your paint color. Darker colors will absorb more heat from sunlight, leading to warping and buckling of the vinyl siding. Match the original color of the siding or go for a fresh new color.
Pick the Proper Application Tools
Polyester brush works well for cutting in edges and small areas into detailed. An airless sprayer is the best choice for large vinyl siding painting projects, as it allows for fast application while providing excellent control over paint thickness.
Airless sprayers apply paint at high pressure, allowing you to work faster with less fatigue compared to painting with a brush. The high pressure also forces paint into small cracks and crevices for maximum coverage. Paint applied with an airless sprayer adheres tightly to vinyl siding for a long-lasting, durable finish.
Setting Up The Airless Sprayer
Read the RONGPENG instruction manual thoroughly before operating your airless paint sprayer. Select the proper hose length for maneuvering around the house exterior. Load the paint canister with paint and prime the pump. Attach a 517 - 521 spray tip ideal for heavy bodied paints on rough surfaces. Test the spray pattern on cardboard.
Set the pressure between 2000-2500 PSI for optimal atomization and penetration. Too little pressure causes sputtering. Too much over-thins the paint. Fill a clean 5-gallon bucket with paint. Place intake tube with attached filter inside to prevent spraying debris.
Spraying Vinyl Siding
Proper handling technique is important for clean, straight spray lines. Keep spray tip 12" from siding, moving at steady pace. Plan your path moving top to bottom in 4'x4' sections, completing one wall at a time. Overlap spray paths slightly for uniform coverage. Keep spray tip perpendicular to siding, arcing strokes horizontally. Point tip straight on to cut-in corners, angles, and trim.
Spray light first coat as tack layer. Allow to fully dry before second coat. Two coats ensure proper coverage and protection. Take care around landscaping, vehicles, windows, etc. Tarps or properly hung plastic sheeting contain overspray. Maintaining a steady hand ensures paint lands only on intended vinyl siding surfaces.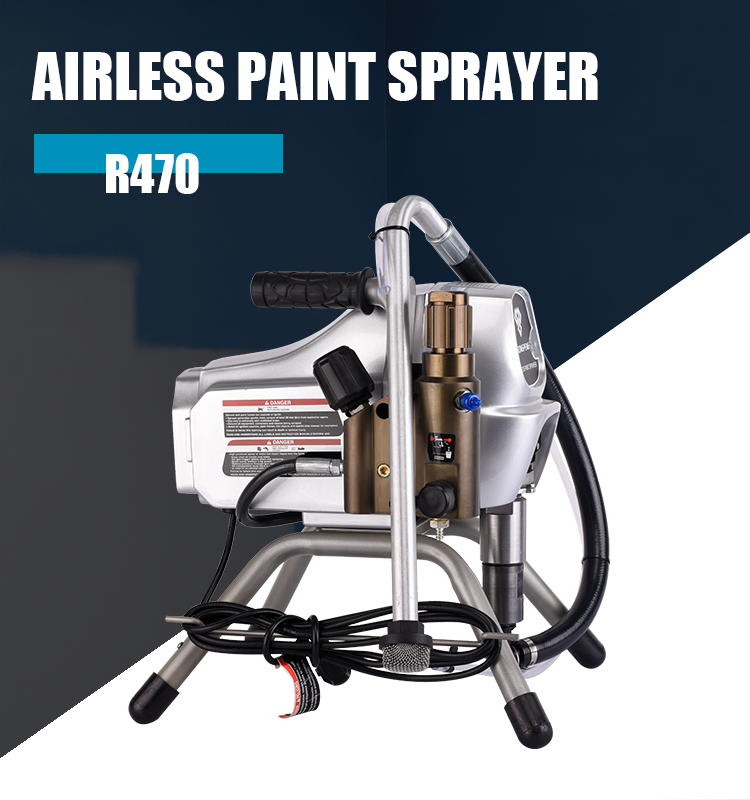 With an airless sprayer and proper spray techniques, it is possible to achieve results on par with professional vinyl siding painting contractors. The RONGPENG R470 Airless Paint Sprayer is the fast, easy way to coat exterior vinyl siding or interior with professional-quality results.
RONGPENG R470 airless paint sprayer features a durable 1.2HP motor that delivers up to 3300 PSI to support the heavy coatings with ease. Supports up to a .021 spray tip. Have electronic pressure control. Heavy duty piston pump. Easy turn siphon swivel with easy remove feature for fast cleaning. Heavy duty siphon with metal pickup and return tubes, easy to replace packings. It comes equipped with a durable 15m high pressure hose and heavy duty airless spray gun model 818W/517 and tip extension, that provides precision application for minimal overspray.
Suitable for industrial construction, steel structure, indoor outdoor painting, chemical painting. Widely used in vehicle, building, shipping, chemical equipment painting.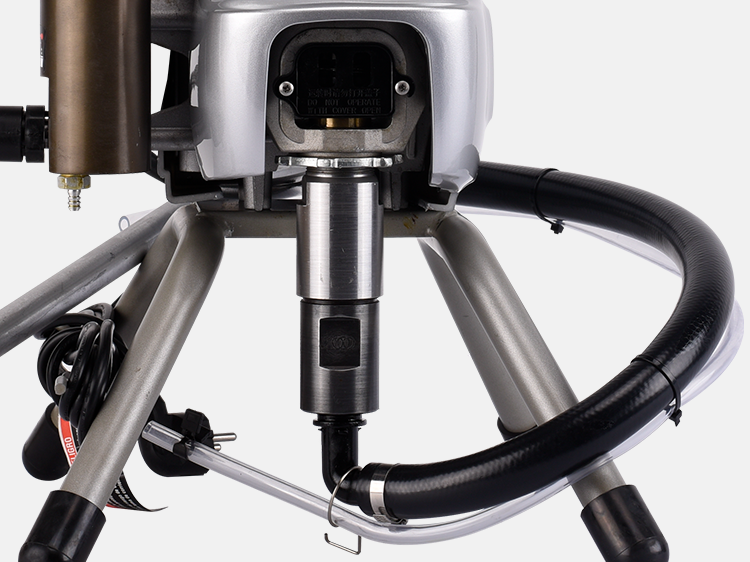 Voltage frequency:220V (RONGPENG R470) / 110V (RONGPENG R475)
Motor power:1.2HP(900W)
Max.pressure:3300psi(22.7mpa)
Standard Nozzle size:517(0.017")
Flow rate:2.1LPM/0.55GPM
Length of high pressure hose:83mpa/15m(50')
Max pressure for the hose:83mpa
Net weight:20kg/44lb
Max spray tip:621, 0.021"
Spraying width:250-310mm
RONGPENG has quickly risen to become an unrivaled global producer of air-powered devices including air tools, air spray gun, air nailer, airless paint sprayer, and etc.
RONGPENG seeks independent sales agent to represent and market our industry-leading pneumatic tools. We support OEM, ODM, OBM customization, small order quantity is acceptable and samples are available.
Make any cooperation possible. Any services related to the product, inquire with us now! Rongpeng@Rongpeng.Com