For automotive applications, you need an air impact wrench that packs plenty of power yet is compact and lightweight enough for maneuverability. How do you determine the best air impact wrench for automotive use?
What is an Air Impact Wrench
An air impact wrench is a pneumatic tool that utilizes compressed air to generate rotational force to loosen and tighten bolts, nuts, and other fasteners. It works via an internal hammering mechanism that is powered by compressed air. When triggered, the hammer repeatedly strikes an anvil which in turn rotates the socket and bolt.
Air impact wrenches are available in different sizes and power levels measured in foot-pounds of torque. Common drive sizes used on vehicles include 3/8-inch, 1/2-inch, and 3/4-inch. Higher torque ratings give more power for stubborn bolts, but also increase tool size and air consumption.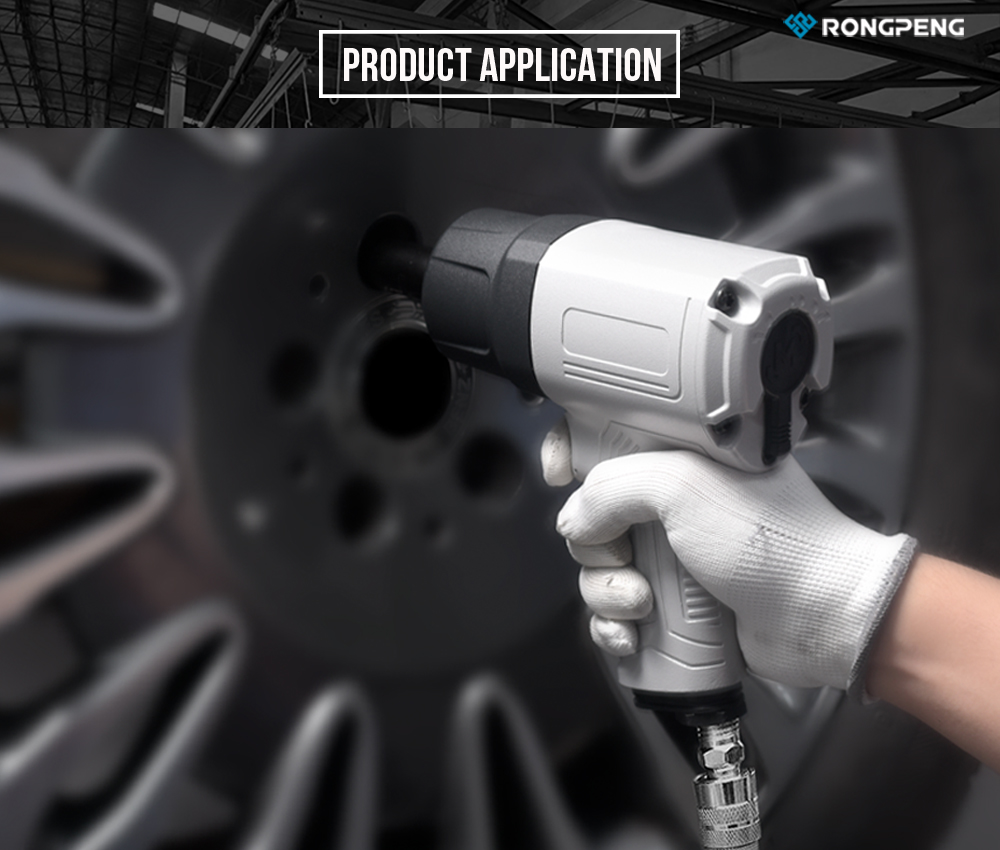 Uses for Automotive Repair and Maintenance
Changing tires. An air impact wrench makes quick work of removing and reinstalling lug nuts. You don't have to strain yourself using a lug wrench or underpowered cordless tool.
Brake jobs. Impact wrenches excel at removing and reinstalling caliper mounting bolts. You can also use them to press out and in wheel hub assemblies when servicing bearings.
Suspension system repairs. Loosening and tightening suspension components like ball joints, tie rod ends and sway bar links is much easier with an air impact wrench.
Drivetrain maintenance. An impact wrench simplifies transmission, differential and transfer case fluid changes by allowing you to remove the drain and fill plugs effortlessly.
Exhaust work. Installing a new muffler or cat-back exhaust system involves removing rusty bolts and nuts. An air impact wrench prevents rounding off fasteners.
Engine repair. Air impact wrenches make quick work of cylinder head, intake manifold and oil pan bolts when doing internal engine repairs.
General repair and maintenance. There are nuts, bolts, and fasteners on any equipment and machines. An air impact wrench speeds up almost any repair or maintenance task.
What to Look For in an Automotive Air Impact Wrench
When choosing an air impact wrench for automotive applications, key factors to consider include:
Power and Torque. Make sure to select an air impact wrench with adequate torque for automotive applications. Look for a 1⁄2 inch drive wrench with higher torque models over 600 ft-lbs are available for the heavy jobs.
Size and Weight. Compact and lightweight models are ideal for maneuvering into tight engine compartments. Look for a wrench under 5 pounds.
Anvil Type. A 1/2-inch square drive anvil fits most automotive socket sizes. Make sure the anvil is durable and designed to withstand high torque.
Speed and Control. Variable speed triggers offer more control over the power and precision. Look for speed settings between 6,000 and 8,000 RPM.
Durability. Automotive repair shops should opt for professional-grade tools built to withstand constant daily use. Look for all-metal casings and bumpers to protect from drops.
Air Consumption. CFM requirements between 4 and 6 CFM at 90 PSI are common. Make sure your compressor can supply adequate airflow.
The Best Impact Wrench to Get the Job Done
With all these factors considered, one of the best air impact wrenches for automotive use is the RONGPENG RP9512 1/2-Inch Air Impact Wrench. It generates an 810 ft-lbs working torque, providing all the power needed for the automotive bolts. The 1/2-inch drive is a standard size for most automotive repairs.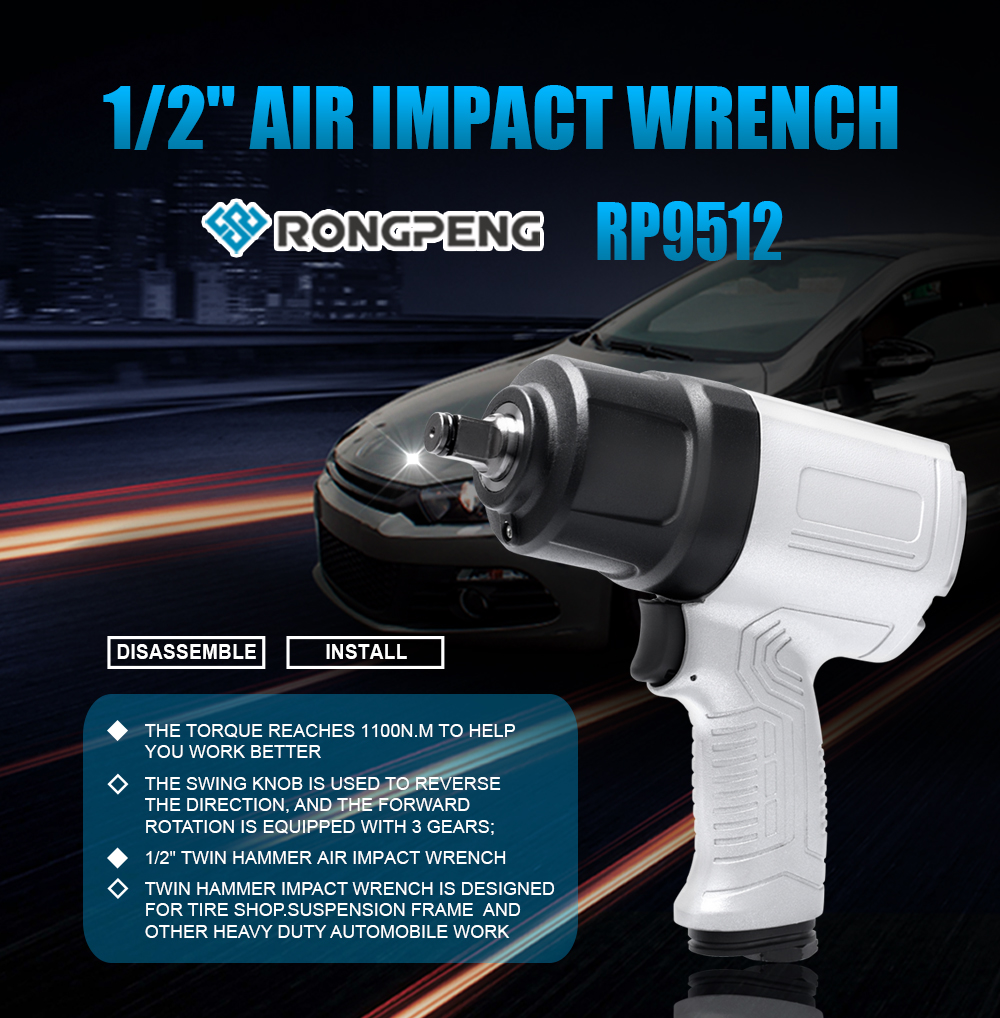 The valve is made of anti-aging material to improve the life and sealing of the valve. Special military materials customized by Baosteel, with long service life. 7800RPM free speed. The swing knob is used to reverse the direction, and the forward rotation is equipped with 3 gears.
Optimized the appearance of the design, the appearance is treated with aluminum alloy spray treatment, the design tool's center of gravity makes the tool have no forward feeling, and the hand feel is the best in the same specification. Impact wrenches in this range are durable and affordable, making them a practical choice for automotive.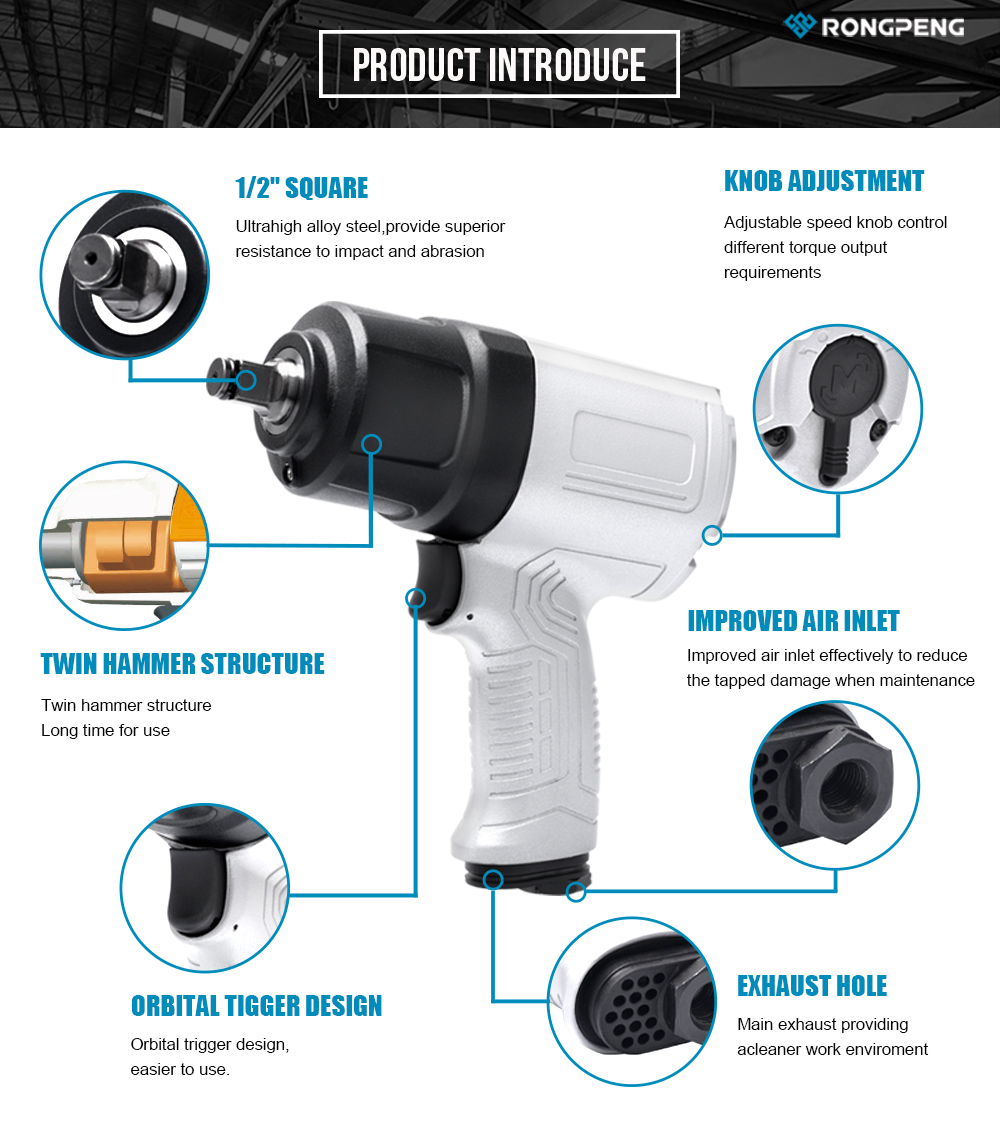 Model: RP9512
Square Drive: 1/2''
Capacity Bolt Size:5/8"(16mm)
Free Speed: 7800RPM
Working Torque: 810ft-lb(1100N.m)
Air Inlet (NTP): 1/4''
Air Hose(ID): 3/8''
Net Weight: 2.39kg
Avg.air Consumption: 6.5cfm
Sug.air Comp: 3HP
Overall Length: 192mm
Working Pressure: 90PSI
RONGPENG has quickly risen to become an unrivaled global producer of air-powered devices including air tools, air spray gun, air nailer, airless paint sprayer, and etc.
RONGPENG seeks independent sales agent to represent and market our industry-leading pneumatic tools. We support OEM, ODM, OBM customization, small order quantity is acceptable and samples are available.
Make any cooperation possible. Any services related to the product, inquire with us now! Rongpeng@Rongpeng.Com