From body shops to construction sites, air hammers are the air tool of choice when it comes to metal, concrete, wood and other hard surfaces. Their impacting power coupled with specialized chisel attachments make them highly useful for rapid stock removal, contouring, and chipping.
Air hammers utilize compressed air to drive a piston which impacts the chisel-like bit hundreds of times per minute. The focused chiseling action of the air hammer allows you to remove high spots and imperfections while leaving the surrounding area untouched.
Metal Surfaces
Air hammers are ideal for scraping and removing imperfections from metal surfaces like automotive body panels, machinery, structural steel and more. Locate the area on the metal you want to smoothen out, where there is an unwanted bump or dip. Wherever the dent is, you must use your air hammer on the side where the metal protrudes outwards.
For removing heavier rust and imperfections, a flatter chisel is preferable. Chisels with a sharp 90 degree tip help chip away heavy rust scale and pits in the metal surface. Use an angled tip if needing to get into corners or confined areas. Always wear eye protection as metal chips will fly when hammering.
Concrete Surfaces
Work in a crisscross or circular pattern to ensure even. Target high areas and re-work low spots until flat. Mark highs/lows with a marker first.
For concrete, first chip away any major irregularities with a pointed scaler bit. Water can be sprayed on the concrete surface during working to help control dust.
Be careful not to overwork one area as this can create noticeable divots and uneven spots. Work systematically over the entire surface, blending repairs into the surrounding concrete.
Stone Surfaces
Air hammers make even stone like granite, marble and sandstone much easier and faster. Hammer chisels remove high spots, form shaped edges, and distress stone. Use a chisel tip to chip away any major irregularities.
Keep the hammer tip flat against the surface and let the tool do the work. Avoid applying excessive pressure or hammering too aggressively at one spot. For crisp stones, use lighter strokes or a lower air pressure setting to prevent chipping.
Wood Surfaces
While not as effective as sanding, air hammers can be used to help flatten wood surfaces. A cone or flat chisel allows you to quickly knock down high spots, ridges, cupping and other irregularities. Cone chisels provide more focused smoothing for working depressions and contours.
Always hammer in the direction of the wood grain - avoid hammering across the grain which can splinter the wood. Use caution when hammering near joints or edges. The vibrations can loosen joints or cause splintering if you get too close. For finishing, use an air sander for best control and to avoid hammer marks.
Tile, Plaster & Drywall
Air hammers with chisel or scraper attachments can be used to remove old thinset, mortar, plaster and adhesives from surfaces like tile, concrete, bricks, drywall and wood. Hold the chisel or scraper flat against the surface and allow the hammering action to chip away the material.
For drywall working, use a wide drywall blade to flatten joints, seams and patches. Feather out edges into the surrounding drywall to disguise transitions. Apply joint compound and allow to partially dry before hammer smoothing for best results. Be careful not hammer too aggressively to avoid fracturing the drywall face paper.
Work Technique
Engage the surface at an angle. Holding the air hammer perpendicular to the surface can cause gouging. Approach at a 45 degree angle to better smooth.
Maintain proper clearance around bits and change frequently as they wear. Dull bits require more force and leave poorer results.
Use an appropriate air pressure. Higher pressures increase speed, but too high can damage surfaces, so 30-60 psi is optional.
A lighter duty air hammer that operates at a high speed and lower impact force are ideal for detail work. RONGPENG RP17621 Air Hammer delivers 4,500 blows per minute(BPM), ergonomic grip for comfort and stability.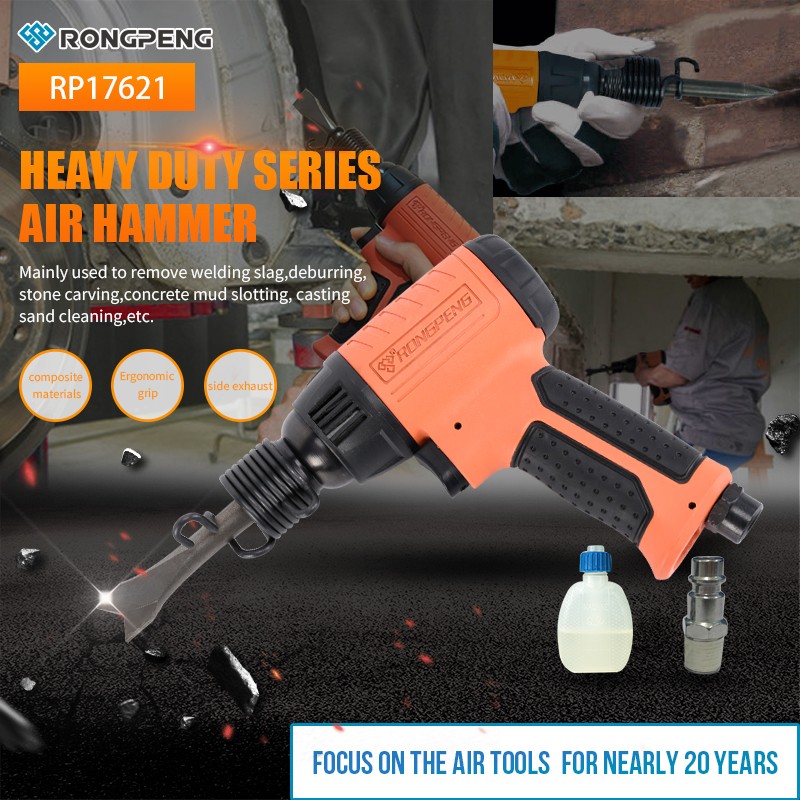 Positive action trigger and built-in air regulator for simple power and speed control. (Screened filter) air inlet to keep dirt and debris from damaging the tool. Standard quick-change spring for speed and ease of chisel change. Chisels And Retaining Spring, Includes 4 chisels and chisel spring retainer (cold chisel, ripping chisel, punch, and panel cutter)
RP17621 delivers the speed to finish metal, concrete, wood, fiberglass, plastic, and more. Perfect for cutting, chipping, piercing, and scraping.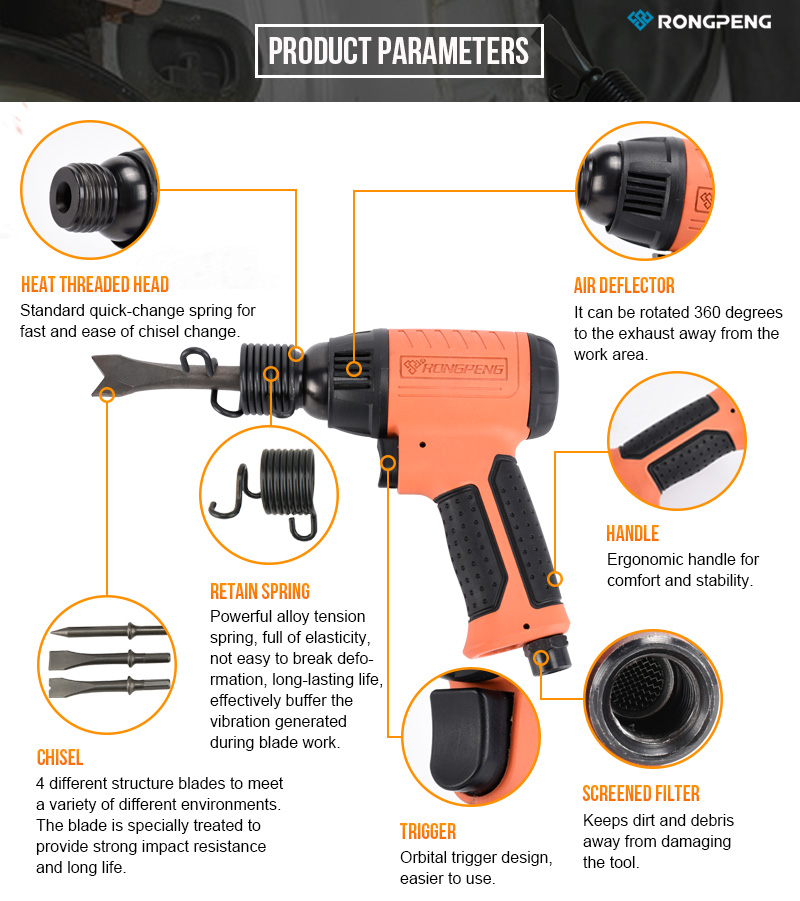 | | |
| --- | --- |
| Model No. | RP17621 |
| Chisel Shank | 2.5"(10.2mm) |
| Bore Diameter | 3/4"(19.05mm) |
| Blow Per Min | 4500 RPM |
| Air Inlet(NPT) | 1/4" |
| Air Hose(ID) | 3/8" |
| Avg.Air Consumption | 2.8cfm(79.2l/min) |
| Sug. Air Comp | 2HP |
| Net Weight | 2.16Lbs(0.98kg) |
| Overall Length | 5.5"(140mm) |
RONGPENG has quickly risen to become an unrivaled global producer of air-powered devices including air tools, air spray gun, air nailer, airless paint sprayer, and etc.
RONGPENG seeks independent sales agent to represent and market our industry-leading pneumatic tools. We support OEM, ODM, OBM customization, small order quantity is acceptable and samples are available.
Make any cooperation possible. Any services related to the product, inquire with us now! Rongpeng@Rongpeng.Com