How to cleaning a Industrial paint spray gun?
Paint spray gun maintenance
Cleaning of the Spray Gun
Warning! Attention!
• Prior to cleaning, please disconnect the paint spray gun from the compressed air circuit.
• Risk of injury due to unexpected leakage of compressed air or material.
• Empty paint spray gun and gravity paint cup completely, dispose of paint material appropriately.
• Disassemble and install components very carefully. Exclusively use included special tools.
• Use neutral cleaning solution (pH value 6 to 8)
• Do not use acids, lye, pickling agents, unsuitable reclaimed materials or other aggresive cleaning media, such
as Toluol, for example.
• Do not soak paint spray gun in cleaning solution.
• Drillings are to be cleaned with cleaning brushes or nozzle cleaning needles only. The use of other tools may cause damage or may affect the spray pattern.
• Exclusively use spray gun washing machines. Remove the spray gun from the gun washing machine right after the cleaning process. Do not let the spray gun store in the spray gun washing machines.
• The air passages have to put under pressure with clean compressed air during the entire cleaning process.
• Nozzle head has to point downwards.
• Never use ultrasonic cleaning devices - leads to damage of nozzle set and gun surface.
• After cleaning, the spray gun, the material passages, the air cap including thread as well as the gravity paint cup have to be blown dry with clean compressed air.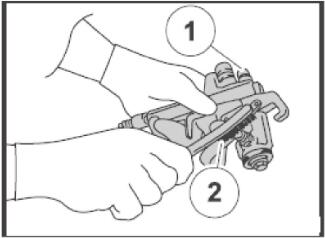 Warning! Attention!
Prior to maintenance, disconnect paint spray gun from the compressed air circuit!
•Pour remaining paint into other container and then clean paint passage and air cap. Spray a small amount thinner to clean passage. Incomplete cleaning will cause adverse pattern sharp and particles. Clean other sections with attached brush, soaked with thinner soft clothes.
• Use special lubrication and lightly lubricate movable parts.
Caution!
Never use the wire or other hard thing to dig nozzle, fluid needle, this will cause the damage of them.
Never immerse spray gun completely in thinner or solvent. When reassembly, always clean parts to prevent the sticking of dust.