Paint Pressure Pots: General Information
Paint Pressure Pots (or Paint Pressure Tanks) use compressed air from a compressor. The compressed air increases the pressure within the pot which forces the coating to move, through the paint hose, in direction of the spray gun. Pressure tanks and pots are commonly available in sizes between 2-120 liter (0.5-32 gallon) and are made either from stainless steel or carbon steel (some with inner liners made from plastic or stainless steel for easy cleaning). A common option for both, stainless and carbon steel tanks, is an air-agitator to constantly agitate the coating while spray painting.
Standard with all pressure pots should be a "pressure relief" valve which automatically relieves pressure when a maximum air pressure is surpassed. Common options are multiple air regulators and multiple outlets for multiple spray guns.
RONGPENG PAINT PRESSURE POT :RP8312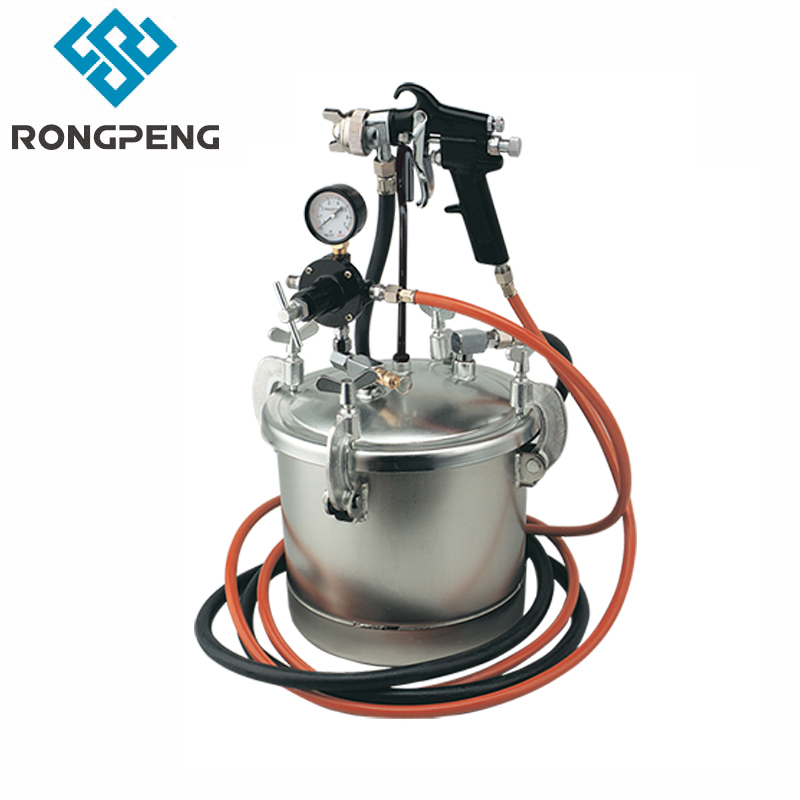 When to use paint pressure pots?
Pressure pots are used for a wide range of applications including the spraying of paint, polyester glue and two-pack coatings. In general, they are used for jobs where the gravity cup of the spray gun is not big enough and where more than 1 liter (0.3 gallon) of coating is required in one batch. Another advantage over gravity and suction spray guns: Pressure-fed spray guns can spray at any angle, including upside down.
The decisive factors to choose the right paint pressure tank:
Size in Liter or Gallon: (The size of the job dictates the size of the pot, or how much paint shall be applied in one batch). Very common pressure tank sizes are, for example, 10 liter (2 gallon) and 20 liter (5 gallon).
Tank in Stainless or Carbon Steel: (Stainless steel can be roughly double in price but preferred when water-based or chemically aggressive coatings are used)
With or without Air Agitator: (depends on whether the coating must be constantly agitated, this can usually be seen in the Material Safety Datasheet.
Pressure Pot vs. Pump
Paint pressure tanks have certain advantages over pumps: A pressure pot is easier to clean and allows finer control of the volume of coating supplied to the spray gun.
Are there there specific paint pressure pots for HVLP sprayers?
No, there are no paint pressure pots (or tanks) which are designed to work exclusively with HVLP sprayers. The pressure tank should have a pressure regulator in order to adjust the air and fluid pressure. But this is standard feature with most paint pressure posts.