Getting lug nuts off a wheel or loosening seized bolts often seems impossible without the right tools. An air impact wrench is a must-have tool for anyone who works on vehicles in their garage. We will help identify exactly what you should look for when choosing an air impact wrench for your garage.
Confirm Torque Output
With air impact wrenches, torque refers to rotating power - the more torque, the more twisting force it can apply. Torque output is measured in ft-lbs (foot-pounds). Consider what types of jobs you plan to use the wrench for. Light tasks like brake pad changes only require around 150 ft-lbs of torque. Lug nuts, suspension components, and other stubborn bolts need upwards of 300 ft-lbs.
Bigger commercial trucks and equipment may need 500-1000+ ft-lbs for things like wheel hub nuts. Match the torque rating to your anticipated needs so you have enough power but aren't overbuying.
A good rule of thumb is to pick a wrench capable of at least twice the recommended tightening torque to safely accommodate overtightened or seized fasteners. Going too far over required torque runs the risk of damage.
Pick an Ideal Size
The most important factor in picking a impact wrench is ensuring it has adequate power to handle the size of fastener you'll be working with. Check the wrench's specifications to see the maximum bolt diameter it's rated for. Using a wrench that's too small can result in stripping or rounding off fastener heads, while one with excess power is unnecessarily heavy and expensive.
1/4" drive models are good for small nuts and bolts, while 3/4" drive air impact wrenches are used for heavy equipment and commercial trucks. For most automotive tasks, 1/2" drive impact wrench is sufficient.
Consider Air Consumption
Air impact wrenches require high airflow to generate maximum power. Air consumption is measured in cubic feet per minute (CFM). The higher the CFM, the more air it consumes. Larger units can use up to 10 CFM. Ensure your compressor can supply the required airflow consistently.
Lower CFM models like 6 or 3 CFM are more suited for small compressors. Also check that the air inlet fitting matches your compressor's hose. Generally, bigger tools require larger hoses (3/8" min) to supply adequate airflow.
Choose hammer mechanism
The type of hammer mechanism is also important. There are two main types: twin hammer and single hammer. Twin hammers provide more blows per rotation for greater power. Single hammer tends to have a bit more control and runs smoother. For most automotive uses, a twin hammer wrench is preferred for the extra torque. Single hammer models are often seen more in industrial settings.
Consider RPM Speed
The blows per minute (BPM) or rotations per minute (RPM) indicates how fast an air impact wrench delivers its power. Light-duty wrenches run between 4,000-7,000 RPM, while high-powered models achieve up to 10,000 RPM for blazing fast performance. Faster speeds allow completing jobs quicker.
However, control may be compromised at very high RPMs. Opt for a model with adjustable speed settings so you can adjust the speed to the task.
Get the Right Accessories
To maximize an air impact wrench, you need compatible accessories.
Air hoses. Use thick rubber hoses (3/8" min) with metal fittings that resist wear and leaks. Check hose length to reach tires/wheels easily.
Couplers. Spring-loaded automatic couplers make connecting to air quick and easy. Get male tips for your hoses and female plugs for tools.
Oilers. Attach an air line oiler to maintain proper lubrication inside the wrench, improving durability.
Air filters & regulators. Filters remove particulates from the incoming compressed air. Regulators control air pressure to prevent damage to tools.
Quality accessories tailored for impact wrench requirements will give you the best performance.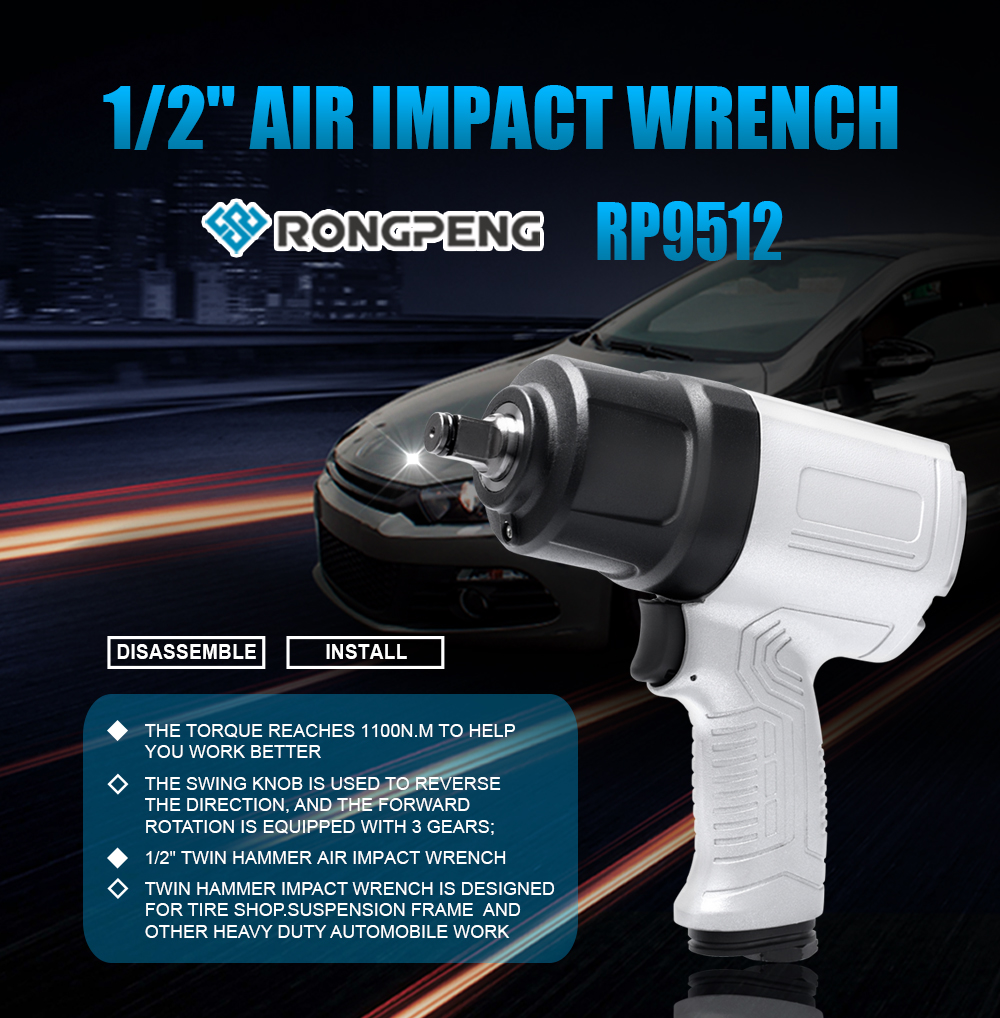 Brand reputation and durability are also important, trust RONGPENG's good reputation. The RONGPENG RP9512 1/2 Twin Hammer Air Impact Wrench with cylinder design (45mm), strong torque. Equipped with special military materials customized by Baosteel, with long service life.
Handle exhaust design to reduce noise. The light weight of the aluminum alloy gun body is only 2.39kg. The design tool's center of gravity makes the tool have no forward feeling, and the hand feel is the best in the same specification.
RONGPENG RP9512 will provide you with more power (1100N.m) if lug nuts are on particularly tightly. Impact wrenches in this range are durable and affordable, making them a practical choice for garage.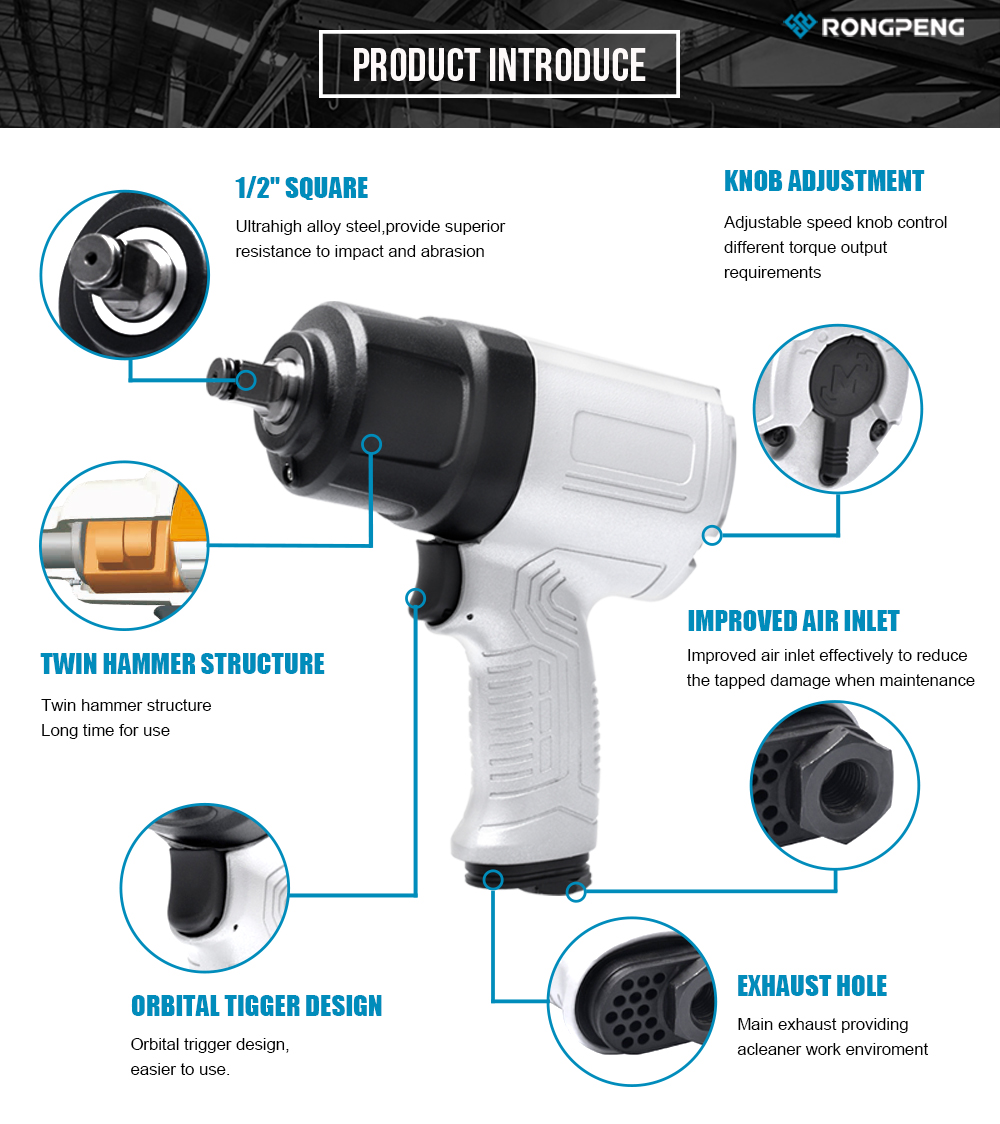 Model: RP9512
Square Drive: 1/2''
Capacity Bolt Size:5/8"(16mm)
Free Speed: 7800RPM
Working Torque: 810ft-lb(1100N.m)
Air Inlet (NTP): 1/4''
Air Hose(ID): 3/8''
Net Weight: 2.39kg
Avg.air Consumption: 6.5cfm
Sug.air Comp: 3HP
Overall Length: 192mm
Working Pressure: 90PSI
RONGPENG has quickly risen to become an unrivaled global producer of air-powered devices including air tools, air spray gun, air nailer, airless paint sprayer, and etc.
RONGPENG seeks independent sales agent to represent and market our industry-leading pneumatic tools. We support OEM, ODM, OBM customization, small order quantity is acceptable and samples are available.
Make any cooperation possible. Any services related to the product, inquire with us now! Rongpeng@Rongpeng.Com