Finish nailers are useful pneumatic tools that can help you efficiently build and assemble wooden furniture. With the right techniques, you can use a finish nailer to construct sturdy, high-quality drawers for cabinets, dressers, desks, and more. We'll walk through the complete process of building a drawer using a finish nailer.
Cut Pieces to Size
Before assembling anything, you'll need to cut your wood pieces to size. For a simple drawer box, you'll need two sides, a front, back, and bottom. The dimensions are up to you, but make sure to cut the front and back pieces the exact same width. The bottom piece should be cut slightly smaller than the other dimensions to allow the sides and front/back to overlap it.
For drawer boxes, you'll want to select a stable, durable wood that resists warping. Popular choices include plywood, poplar, maple, and oak. The thickness of the wood will depend on the size of the drawer. For small to medium drawers, 3/4" plywood or solid wood stock is sufficient. For larger drawers, go with 1/2" thick plywood to reduce weight. Avoid using particleboard or MDF, as these substrates won't hold screws or nails as securely.
Assembling the Box
The drawer box comprises two side boards, a back board, and bottom board. Apply wood glue to end grains before joining pieces. Align edges flush and attach boards with 1-1/4 inch finish nails every 2 to 3 inches.
Once the front, back, and sides are assembled into a rectangular box shape, you're ready to install the bottom. Apply glue to the bottom edges of the sides, front, and back pieces. Place the bottom panel into the drawer box recess.
Make sure the bottom panel is centered and pressed tight into the corner joints. Use the finish nail gun to secure the bottom by edge-nailing through the sides, front, and back pieces into the bottom, focus nailing along the edges.
Check for square as you assemble. Measure diagonals to ensure the box is rectangular. Adjust if needed while glue is wet. Use a carpenter's square and level to verify corners are precise 90° angles. The finish nailer's straight nails and adjustable depth settings aid in assembling square boxes.
Build Drawer Face
Typically, you'll want to add an good-looking drawer face to the front rather than leaving the plywood edge exposed. Cut a piece of solid wood or plywood to size for the drawer front. Allow an overhang of 1-2" on each side to overlap the drawer box.
Use wood glue and finish nails to secure the drawer front directly over the drawer box front piece. Constructing the drawer so the box and face are separate allows for wood movement and gives you the option to use different materials for each component.
Finishing and Use
For full drawer functionality, mount slides so drawers can glide smoothly in and out of cabinets.
Apply your choice of paint, stain, or wood finish to protect and beautify your drawer. A fast-drying polyurethane is a good choice for a durable and water-resistant finish. Finally, mount new drawer pulls or knobs to finish construction.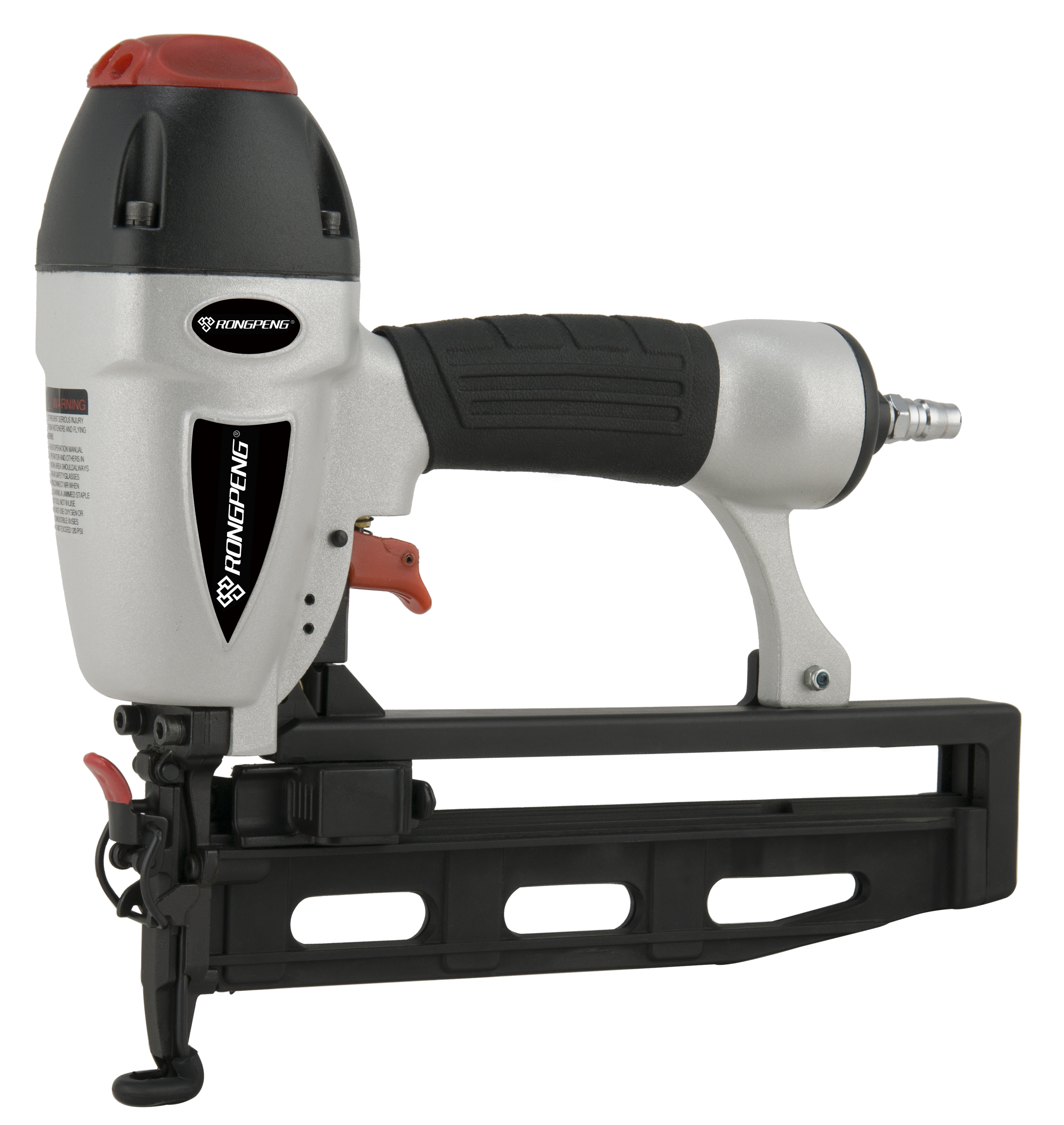 With appropriate materials and good joinery techniques, you can use RONGPENG T64RA 16 Gauge finish nailer to successfully create custom drawers for any cabinetry. At just 4.07 pounds, the T64RA is highly maneuverable and comfortable to handle.
The 360 degree fully adjustable exhaust directs air away from you while also allowing you to control drive depth. Set nails perfectly flush or countersunk for a smooth finished look.
It drives the 16 Gauge 1"-2-1/2"(25-65mm) nails. Tool less, easy to clear nose for quick and simple nail extraction should a nail jam during use. No mar tip protects the work surface from damage. Ideal for interior and exterior finish and trim, furniture, cabinet work, staircases, base boards, shoe and crown moulding, window casing, and chair rail moulding.
Model No:T64RA
Fastener Details:25-65mm
Load Capacity:100pcs
Operating Pressure:80-120PSI(5.5-8.3bar)
Max.pressure:120Psi(8.3Bar)
Air inlet:1/4''(6.35mm)
Dimension:320x280x80mm
Weight:1.83kg(4.07lbs)
RONGPENG has quickly risen to become an unrivaled global producer of air-powered devices including air tools, air spray gun, air nailer, airless paint sprayer, and etc.
RONGPENG seeks independent sales agent to represent and market our industry-leading pneumatic tools. We support OEM, ODM, OBM customization, small order quantity is acceptable and samples are available.
Make any cooperation possible. Any services related to the product, inquire with us now! Rongpeng@Rongpeng.Com