If you're a mechanic, technician, or DIYer who regularly works on tasks that involve nuts, bolts, and fasteners, then a socket ratchet wrench should be one of your go-to tools. Air ratchet wrench uses the power of compressed air to quickly zip through bolt and fastener removal. This makes air ratchet wrenches perfect for jobs requiring the removal of multiple or tightly torqued fasteners.
How a Ratchet Wrench Works
A ratchet wrench is a mechanical device that allows you to apply a torque force to a fastener, such as a nut or bolt, without having to remove the wrench from the fastener. The ratchet wrench consists of a handle, a ratchet mechanism, and a socket or wrench head that fits onto the fastener. The ratchet mechanism is a geared system that allows the handle to move in a circular motion, while the socket remains stationary.
The switch on the head determines which direction the gear engages. Setting the switch one way causes the gear to catch when rotated clockwise, turning the socket to loosen bolts. Flipping the switch to the opposite direction causes it to catch when rotated counter-clockwise, to tighten bolts.
This ratcheting action allows you to tighten or loosen fasteners in tight spaces where a standard wrench won't fit. You simply keep the wrench handle rather than having to completely remove and re-fit the tool each time.
Drive Sizes
Socket ratchet wrenches come in different drive sizes - typically 1/4-inch, 3/8-inch, and 1/2-inch. The drive size dictates the size of socket that will fit the ratchet. So a 1/2-inch drive ratchet will accommodate 1/2-inch drive sockets, while a 1/4-inch drive ratchet will take 1/4-inch sockets.
Choosing the right drive size depends on the fastener size you'll be working with most regularly. 1/4-inch drive - good for tighter spaces and smaller fasteners such as precision equipment. 3/8-inch drive - the most common size, suitable for most automotive applications and fasteners. 1/2-inch drive - best for heavy equipment, and large fasteners.
Ratchet wrench for Faster Work
A good ratchet wrench is designed for speed. The ratcheting mechanism allows you to tighten nuts and bolts much faster than using a standard wrench or other tool. This time savings really adds up for jobs involving multiple fasteners, like automotive work or assembling furniture and equipment. Professionals who use ratchet wrenches daily rely on the ratcheting feature to accomplish more work in less time.
The other key advantage of ratchet wrenches is convenience. Being able to use the wrench without taking it off the bolt every turn makes jobs easier, especially when access is tight. Not having to constantly reposition the wrench helps prevent hand fatigue as well. For DIYers and professionals who regularly work with all types of fasteners, a quality ratchet wrench is an essential time-saving tool.
Choosing Your Ratchet Wrench
For most users, a quality 3/8-inch drive ratchet wrench will be suitable for the majority of tasks. Start working faster with the RONGPENG RP17411 ratchet wrench.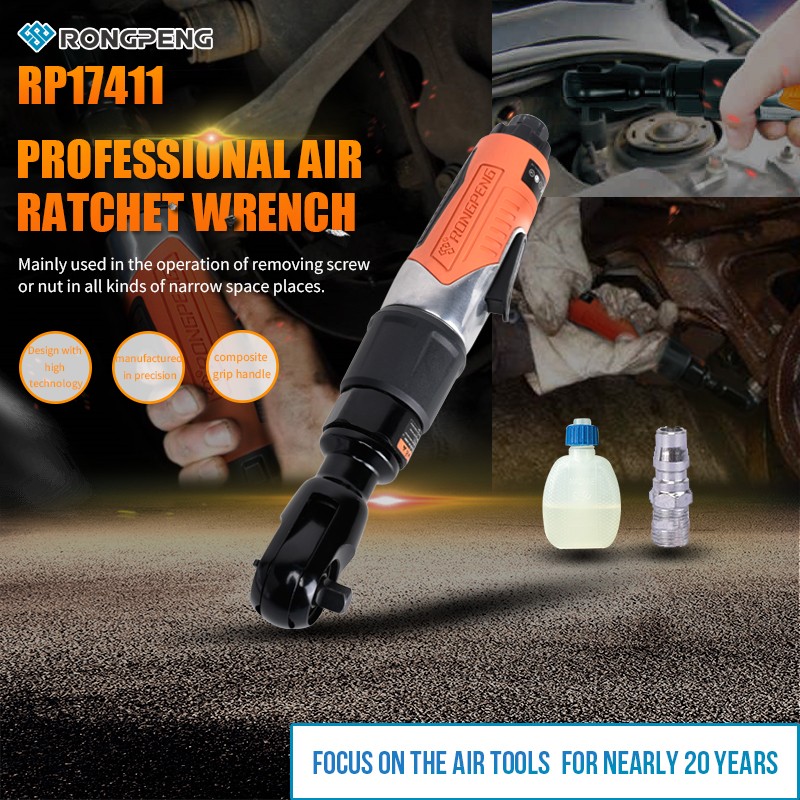 Designed with high technology and manufactured in precision High quality, more power and longer life. Ball bearing mounted air motor produces enough power for most job requirements. Comfortable composite grip handle. Heat-treated components for increased durability. Fully hardened planetary gears reduce friction for many years of tool productiviy.
3/8" drive size makes the RONGPENG RP17411 versatile enough for most automotive repairs, machinery maintenance, and home improvement jobs. Mainly used in the operation of removing screw or nut in all kinds of narrow space places. Every automotive or industrial technician should have in their toolbox.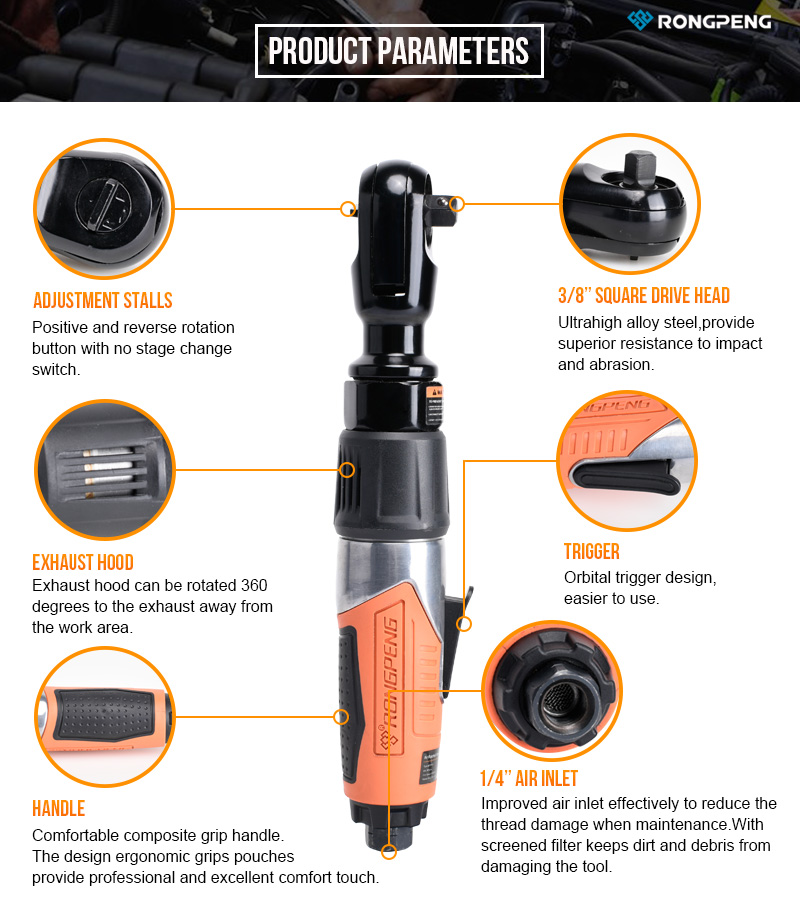 | | |
| --- | --- |
| Model No. | RP17411 |
| square drive | 3/8" or 1/2" |
| capacity bolt size | 13mm |
| free speed | 160RPM |
| working torque | 50 ft-lb(67.5N.m) |
| air inlet(NPT) | 1/4" |
| air hose(ID) | 3/8" |
| avg.air consumption | 114 l/min |
| net weight | 1.2kg |
| overall length | 11"(280mm) |
RONGPENG has quickly risen to become an unrivaled global producer of air-powered devices including air tools, air spray gun, air nailer, airless paint sprayer, and etc.
RONGPENG seeks independent sales agent to represent and market our industry-leading pneumatic tools. We support OEM, ODM, OBM customization, small order quantity is acceptable and samples are available.
Make any cooperation possible. Any services related to the product, inquire with us now! Rongpeng@Rongpeng.Com