Automatic Air-Spray Guns
An automatic air-spray gun closely resembles a manual spray gun without a handle and manual trigger. It may be mounted in a stationary position or designed for use with a reciprocator or robot. They have one or dual spray heads and different spray angles to best fit the application. Automatic spray guns are triggered by a part identification system that "reads" the position and size of the part as it approaches and turns the guns on and off at the appropriate times. A more detailed triggering system uses a manually entered part number or style code at a manual input station (MIS) that utilizes a detailed application program that is specific to that part style and color.
Fluid tips and pattern shapes can be changed for different applications, making these guns flexible for a variety of products and paint materials. Liquid Paint Application Systems typically provide better penetration into recesses than a bell or disk. Typical transfer effciency can be very good, if parts are properly racked and the triggering programs are well defined. However, the air pressure required for atomization can result in more overspray than a bell. The bell atomizes the paint in a finer droplet and more narrow range, so the grounded part is able to attract a higher percentage of the paint sprayed. The bell also has a lower forward velocity, so the paint is less likely to be carried past the target by the force of the spray.
From《Paint Technology Handbook》Rodger Talbert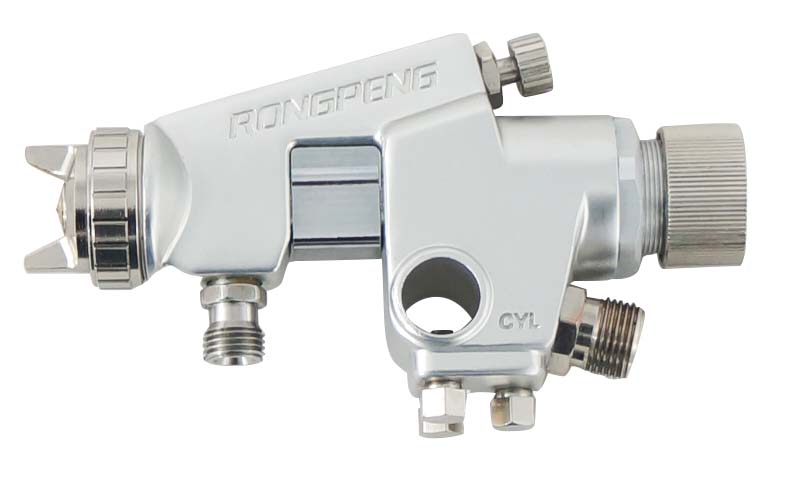 FEATURE:
• Withstand the rigors of high-speed production lines and harsh finishing conditions.

• Designed for use withindustial robots,recipicators and stationary mounting,allws mounting intight areas.
• Simp fied gun design for greater reliability and ease of maintenance.
• Detachable spray gun head for fast needle packing replacement.
| | | | | | | | |
| --- | --- | --- | --- | --- | --- | --- | --- |
| Model | Type of Feed | Standard Nozzle | Optional Nozzle | Operating Pressure | Pattern Width | Air Consumption | Paint Cap Set |
| ZQ-10 | Pressure | Φ1.0mm | Φ1.0Φ1.3mm | 3.0bar | 220mm | 9.5cfm | E1 |